Day 6 – Wednesday August 31, 2016
Run 4 Solo – Run 3 Synchro
SHORT REPORT
A very good rhythm for these runes today, synchro 3 and solo 4, but too bigs clouds to let the 4th synchro run begin…
Results are available on this page.
Comments about solo run 4…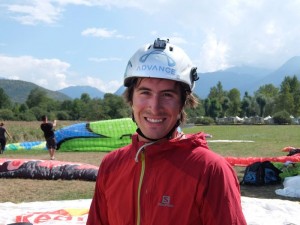 Eliot  Nochez – France
Eliot Nochez, France:
"Great competition, the organisation is perfect.  For me, the competition did not start well.  Now I'm learning that you don't always win!  I've learnt some new manoeuvres in the last few weeks: Corkscrew, Joker, Cowboy and Twister.  I'm looking forward to trying them out here."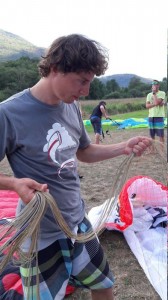 Ondrej Prochazka – CZE
Ondrej Prochazka, Czech Republic:
"I got a weird collapse and then a cravat, which took a while to clear.  These things happen.  But now I have some small repairs to make on the wing.  It was a good landing on the raft though."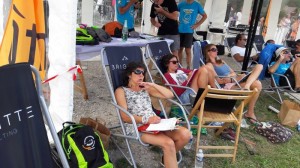 The Judges
Beverley, Marion & Alexandra, The Judges:
There has been mixed response to the wing overs as an imposed manoeuvre. Some pilots have said it is difficult to perform with elegance with today's acro wings. "From our perspective, some were very good, better than expected.  But for some, I've seen better from acro trainees," Marion said. "Today Raoul performed a twisted wing over – I don't know why no-one else tried it."
LIVE
16:00 – That's all for today.
12:20 – Quickly followed with the 4th solo run
12:00 – Complete Synchro run.
10:00 – 3rd Synchro run. Very soon.
Photos in real time on Instagram wpac2016, hashtag  #wpac2016 on Instagram and Facebook.
Real time results via this link.
PROGRAM
Approx. 11:00-12:00 -> Preparation + Synchro run 3
14:00-17:00 ->start of Solo run 4